Awaken Youth Group
Awaken is a ministry dedicated to serving students 6th - 12th Grade.
Every Wednesday Students can arrive at South Side as early as 6:00pm
Students hang out & receive a free bag of Chips & Soda
*Bring a first time guest and receive a full size candy bar!*
From 6:00pm- 6:45pm students play:
Mario Kart - Smash Bros - 4 Person Air Hockey - Ping Pong -
- Carpet Pool - FoosBall - Cards - Board Games & More!
Then from 6:45pm - 7:30pm Students:
Worship & Sing together
Learn from Gods Word
Talk in small groups
Every Sunday @ 9:30am we have our Awaken Encounter group
Students are encouraged to attend this group to dive deeper into Gods word.
Every Sunday @ 10:45am Awaken Students can either:
Volunteer to help with Rooted children's Church
(our Nursery - 5th Grade Church)
Or
Choose to sit together or with their family in the adult Elevate Worship.
Also, we have Awaken events throughout the year, so be sure to stay up to date & Sign - Up below.
Upcoming Events
Believe - Discipleship Weekend Trip
Parents Meeting - February 12th 7:30pm @ South Side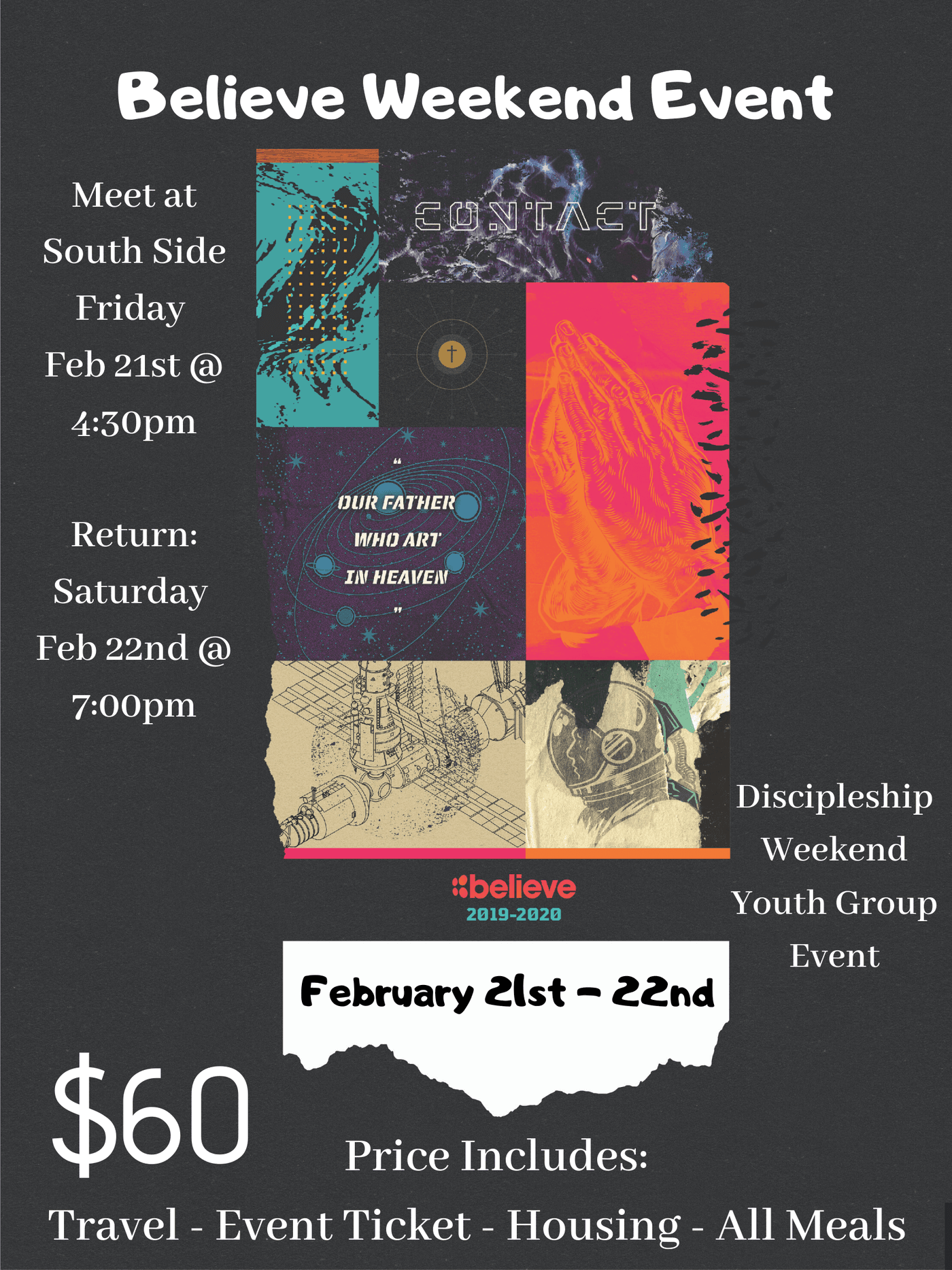 Believe - Discipleship Weekend Trip
Believe: Youth Group Weekend Event
Trip price: $60 per student
Price includes: Travel – Event Ticket – Housing - & All Meals
Students leave Friday, February 21st @ 4:30pm and return Saturday, February 22nd @ 7:00pm
Students will be accompanied by adult Church volunteers who have passed rigorous background checks.
Volunteer to student ratio = 1 Adult to every 4 Students
All Students will be staying at the SAME hotel 15 minutes from the Event location.
Event Located @ BB&T ARENA 500 Nunn Drive Highland Heights, KY Approx. 1 Hour 15min Away.
For more information visit: https://new.ciy.com/believe/dates-locations/info/bel20oh
Or Call our Youth Pastor - Nathan Borish @ 817-724-3865
Event Schedule:
FRIDAY
4:30 PM – Meet @ South Side – Dinner/Snack
4:45 PM – Depart for Event
6:00 PM - Check In
6:30 PM - Doors Open
7:30 PM - Main Session 1
8:25 PM – Break / Snack
8:55 PM - Main Session 2
9:55 PM - Dismiss to Small Group Experience
10:30 PM – Drive to Housing
10:45 PM – Late Night Snack
SATURDAY
7:30 AM – Breakfast
8:00 AM – Drive to Event
8:30 AM - Doors Open
9:30 AM - Main Session 3
10:40 AM - Break
11:10 AM - Main Session 4
12:10 PM - Lunch Time / Small Group Experience
2:00 PM - Doors Open
2:30 PM - Main Session 5
4:00 PM - Head Home
5:00 PM – Dinner
7:00 PM – Arrive @ South Side
Participant Required form Link: